Lewens-Essens is right on the beach front with magnificent views of Table Mountain and Dassen Island.
sea life in the shallow pools. In the evening the moonlight on the water is just a little bit more breathtaking than in the cities, because we have no street lights. The walking trail passes in front of the house along the sea and will introduce you to fynbos and flowers.

Abundant sea life like mussels, crayfish and line fish such as Snoek form part of this picturesque little fishing village.
Yzerfontein is 87 kilometers from Cape Town, 50 kilometers from Langebaan, the Casino and Club Mykonos and 23 kilometers from Darling on the West Coast R27.
If you want to break away from the rush of the city to relax in peace, privacy and tranquillity, without travel ling for more than an hour, you will be pleasantly surprised to find the little village called Yzerfontein off the R27, a jewel on the West Coast.

We are proud to introduce and welcome you to Lewens-Essens B&B where you will enrich your soul with the beauty of nature. Amongst other things the unobstructed 180 degree views will reward you with the most stunning sunsets. We are situated on the beach front, no more than 20 meters from the rocks and the sea with spectacular views from every room.

You can explore the coast line along white sandy beaches, take a trip to Dassen Island or enjoy the abundant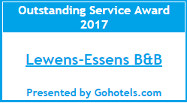 2019
RECOGNITION OF EXCELLENCE
HotelsCombined
Lewens_Essens_on_C
2018
RECOGNITION OF EXCELLENCE
Lewens_Essens_BB